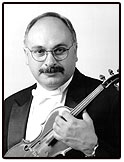 Please join us in welcoming violinist Levon Zarasian back to CCOV as our guest musician on October 6th. The musical selections will celebrate Levon's Armenian heritage, and include pieces by Khachaturian, Hovhannes, and Babjanian. Help us inaugurate a new season of professional artists appearing at our church!
Levon Zarasian has been a member of the first violin section of The Phoenix Symphony since 1992. Prior to joining the orchestra, he studied violin with Jascha Brodsky at the New School of Music in Philadelphia where he received his bachelor's degree in music performance.
Levon went on to study with Erick Friedman at Southern Methodist University in Dallas, where he received his master's degree in music performance and was a recipient of the prestigious Algur Meadows scholarship award. In 1990, he was a semifinalist at the Aram Kachaturian competition in New York City.
Before obtaining his current position, Levon performed with numerous orchestras and chamber groups in Pennsylvania, New Jersey, Delaware and Texas.
Born of Armenian heritage, Levon began violin studies at the age of six. In 1976, he was the youngest participant in the Bach International Violin competition in Leipzig, Germany.
Levon resides in Phoenix with his wife and daughter. In his spare time, he enjoys traveling, hiking and teaching his daughter violin.